The Lovense Gush
Bluetooth Glans Massager
The Gush by Lovense is a flexible & handsfree, rechargeable Bluetooth remote app-controlled glans masturbator and stroker massager vibrator. Adjustable to fit any size, includes an optional band that provides increased tightness for targeted stimulation and enhanced intensity.









Gush Spec
Weight: 133 g
Materials: ABS Plastic and Body-Safe Silicone
Battery: Li-Ion Rechargeable
Charge Time: 65 minutes
Use Time: < 115 Minutes
Standby Time: < 120 hours
Waterproof: IPX7 Waterproof

How to Use the Gush?
Apply water-based lubricant to both yourself and the inside of the Gush massager. You can position and with or without the optional band and use handsfree for a slow build-up to or if you prefer a masturbating action perform a stroking motion using the Gush for a penetrative sensation with the added pleasures of power vibration. To switch on, hold the power ON/OFF button for 3 seconds, then cycle through the available vibrations by a further single press to navigate the programs, or use the Lovense Remote app installed on your smartphone for complete handsfree control and explore the full potential of the Lovense Gush's power, patterns and features.
Charging Gush
The Lovense Gush is rechargeable via USB charger cable, connect to a compatible device or port and connect the magnetic charger terminals between your Lovense Gush and charging cable until you see the red LED light, indicating that charging is in progress. It takes approx. 65 minutes to conclude a full charge, which will provide up to 115 minutes of use and 120 hours od standby time. Once the gush is fully charged the red LED light will extinguish. Turn off Gush before charging.
Is the Gush Waterproof?
The Lovense Gush has an IPX7 waterproof, which means it is fully waterproof and can be submersed in water. This ensures effective functionality when used in environments where moisture exists, as one would expect when using a vibrating male masturbator sex toy of this style.
Caring for your Gush
You should clean the Gush both before & after each use. Use warm water and mild soap to cleanse and range your Gush, sex toy cleaners can also be used as directed. After you have washed Gush, ensure it is fully dry before storing.
What's in the Box?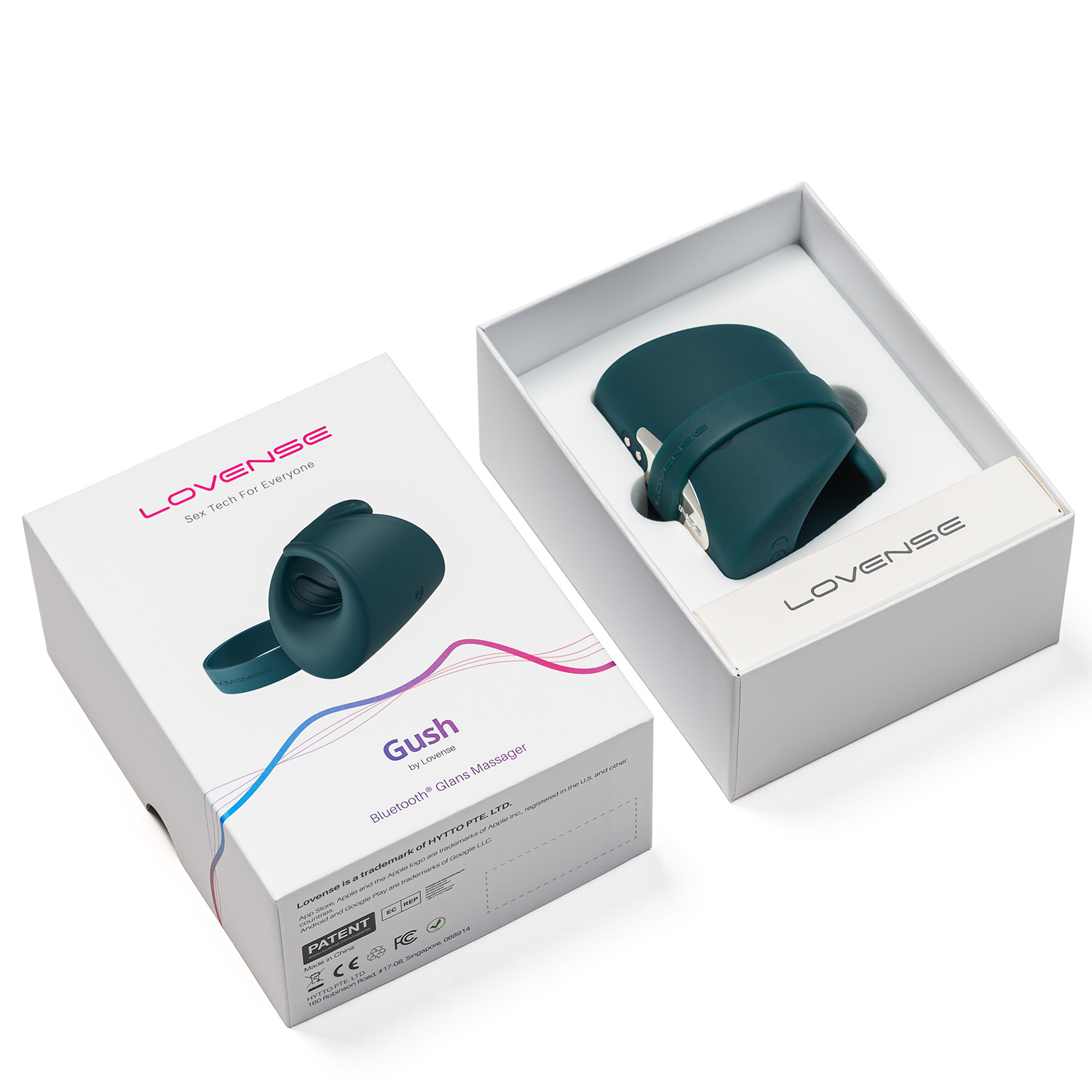 Contents

Lovense Gush Bluetooth Glans Massager
Gush Band
Storage Bag
USB Charging Cable
Quick Setup Guide

Lovense Gush User Manual.pdf
(Size: 2.98 MB / Downloads: 48)
BUY LOVENSE GUSH
Available at the following online retailers:
Lovense
|
Pabo
BUY DIRECT FROM LOVENSE